Streaming and Live Production, Useful Equipment
Blackmagic Design GPI & Tally Interface
---
Displays tallies for indicating the on-air status of video signals
Indicates On-air Status
For ATEM Switchers / Videohub Routers
8 Contact Closure Inputs & Outputs
Included break-out cables for Sony CCU's
€30,00
The Blackmagic Design GPI & Tally Interface is designed to work with ATEM production switchers and displays tallies to indicate the on-air status of video signals. It features 8 contact closure inputs and 8 contact closure outputs for connecting to ATEM switchers and Videohub routers for operation. Additionally, the GPI & Tally Interface can be used with multiple interfaces to increase the number of inputs and outputs.
Furthermore, our Set includes a special cable set for the integration with Sony broadcast CCU's.
In the Case
Blackmagic Design GPI & Tally Interface
25 pin D-typ > 8x RCA female
5x 25 pin D-type > XLR3M, XLR3F, RCA male
AC adapter
Hard case
Connections
Contact Closure
25 pin D-type connector providing 8 opto isolated inputs and 8 relay contact closure outputs.
Computer Interface
1 x USB 2.0 high speed interface for configuration and firmware updates.
Inputs
Optical isolators triggered by connection to ground. Max 5V at 14mA.
Outputs
Mechanical relay contact closure to ground. Max 30V at 1A.
Ethernet
10/100 BaseT with loop through for connecting to other ethernet enabled equipment.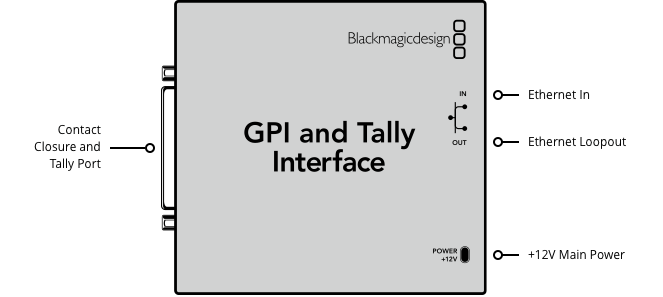 Software
Software Included
Configured via ATEM Switcher Utility.
Internal Software Upgrade
Firmware built into software driver. Loaded at system startup or via updater software.
Power Requirements
Power Supply
12V power supply included with international socket adaptors for all countries.
Physical Specifications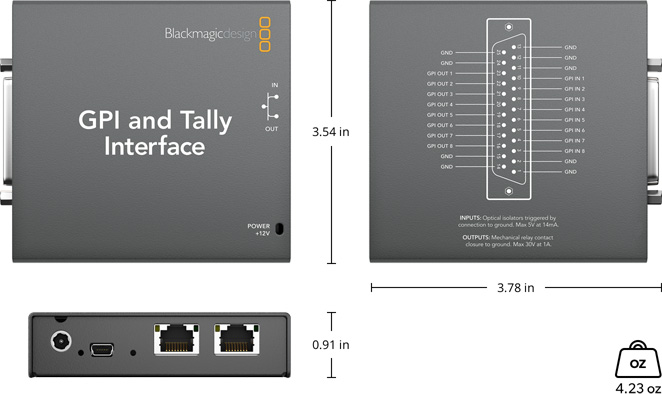 Environmental Specifications
Operating Temperature
0° to 40° C (32° to 104° F)
Storage Temperature
-20 – 60 degrees celsius
Relative Humidity
Up to 95%